JotNow
More than just another note program, it is an entire productivity increasing arsenal (in a thought jotting sense). Packed with some of the most useful and advanced features ever compiled in a simple note taking application. JotNow has truly and seamlessly combined the advantages of dynamic thinking.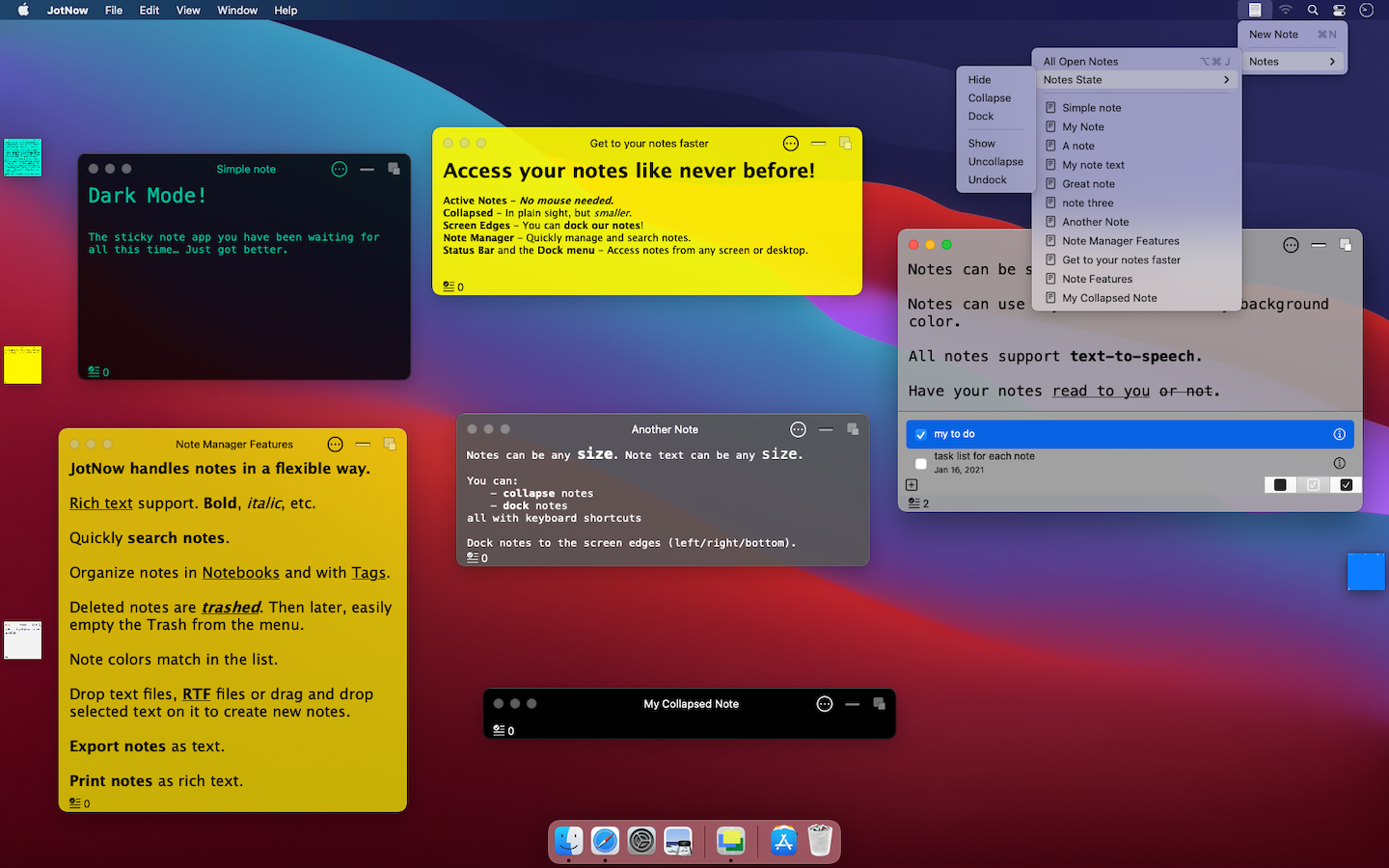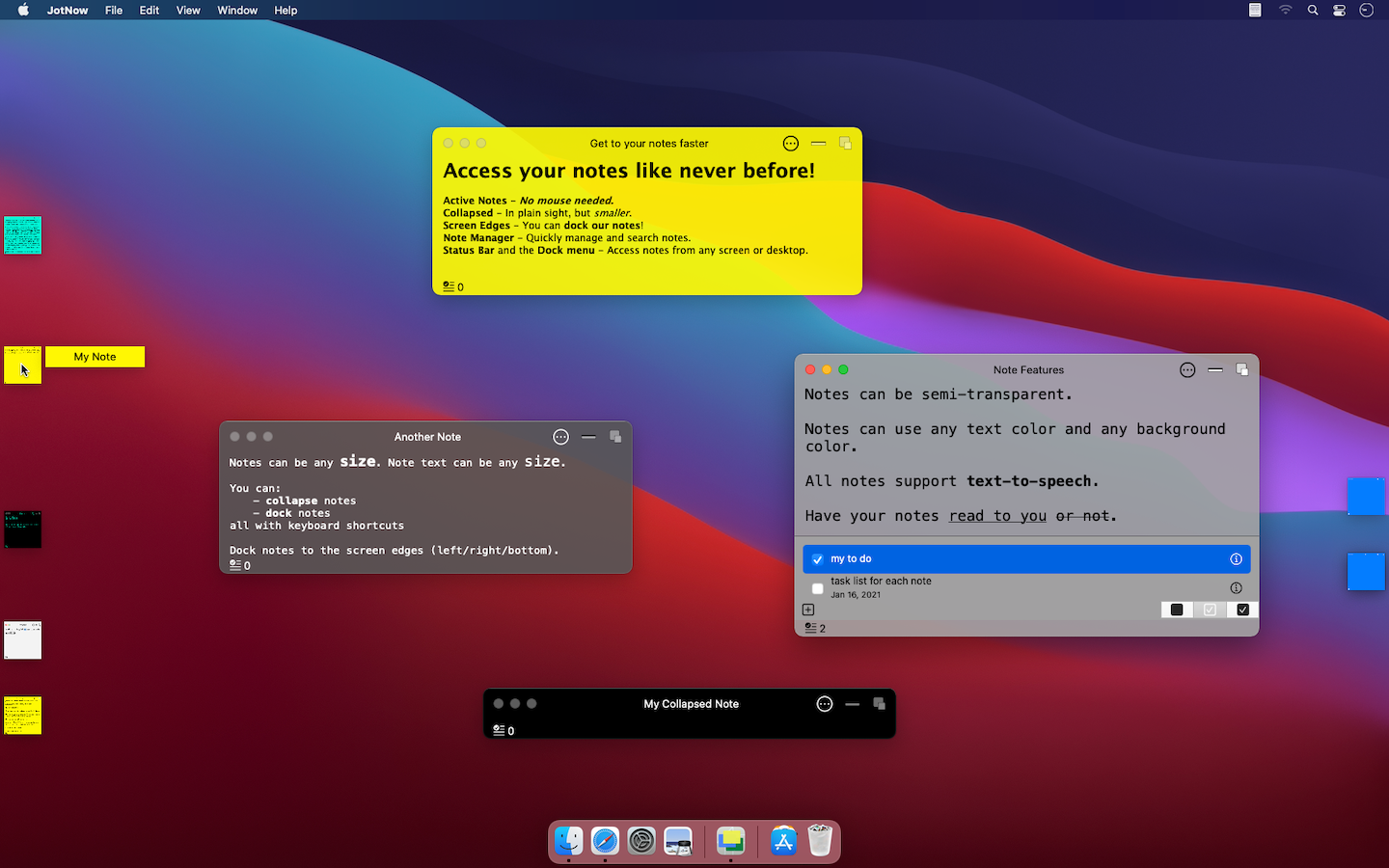 Organize your thoughts and find them just as fast.
Dock and collapse notes to keep them out of your way but still in plain sight. Place notes in notebooks and further organize them with tags. Even use your favorite color to add some style to your notes. Why write down notes when you can have JotNow store, search, and organize them?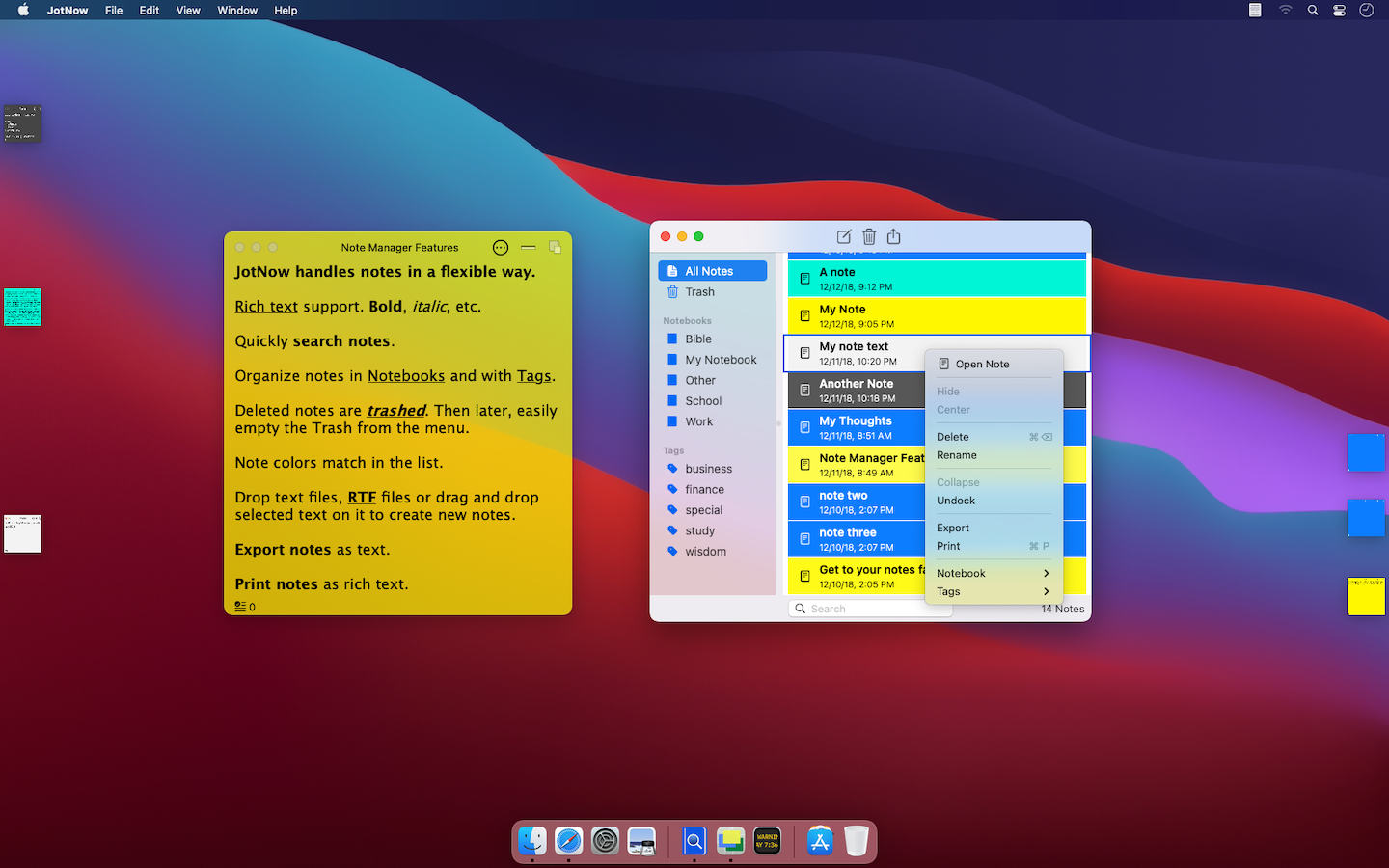 Move between notes just as easy as you create them.
Find notes and display notes with a click of a mouse or the press of a key. So much effort has been put on functionality and simplicity you will wonder how you ever used your computer without JotNow installed.
Note Features
Publish notes to the web.
Easily share notes with anyone.
Notes can float on top of other windows. This allows you to use another application while keeping your note open and viewable.
Note To Do list, each note can have it's own list of tasks. No need for a separate to do list app.
Custom note colors and note transparency, style your notes. Easily identify your notes using custom colors from a color wheel with thousands (even millions) of colors.
Dock and collapse notes to keep them on the screen, but out of the way.
Resizable notes allow you to position them any way you want
Create notes without using the mouse, because sometimes we don't feel like lifting our hands.
Auto-saves, never worry about notes being saved
Note Manager Features
Search notes easily. Quickly find notes you created.
Export and import notes (txt, rtf, etc)
Uses the note colors to help you easily find it in the list
General Features
Easy to use
Hide the dock icon
Unlimited notes, means you can create thousands and thousands of notes without JotNow ever slowing down. Future friendly.
Unlimited notebooks and tags. Easily move the notes between them whenever you want.
Global/system keyboard shortcuts (hot keys) allow access to JotNow from any application. Now you can use any Mac app, but have your notes a keyboard shortcut away.
Backup and Restore your notes. Your entire note collection can be archived and restored at any time. Notebooks, tags, todos, notes; everything is backed up (even colors).
Dock and Status Bar menus to access notes
Stable and reliable, your notes are safe.
Keyboard user friendly (many helpful shortcuts), you can command key features without touching your mouse. You like quick access to apps without the mouse, JotNow has it covered. Check out the docs for all the shortcuts.
Dark mode
and much more…